category : Arts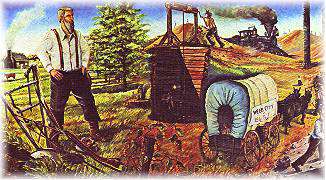 "The Webb City Story" - Jack Dawson
"I feel that Webb City has a gigantic past, and it is important that the present generation and those that follow have an appreciation of this fact. The mural is a step in that direction as it depicts some important events, places, and people in a tremendous history. I want to convey, not just a history of the past, but a 'feeling for past living' so that those who come after us will remember and draw encouragement from our inheritance from the hardrock miners and their children."
Jack Dawson's 30 foot mural, displayed at the Webb City Bank, begins with the tribute to John C. Webb, the founder of Webb City and his destiny to discover lead ore. The story continues threw the growth of the city as about 18,000 people came on foot, on horseback, and in wagon's. Stately buildings began to line the streets, and fine homes were built. After the 'Blue Period' which came when the mines closed in 1918-1920, Webb City became a ghost town. Determined citizens rebuilt the mining town into an agricultural, industrial, and residential community as Webb City lives on.
The mural ends with an elderly grandfather telling the story to his curious grandchildren representing the present and also a wondering and hoping about tomorrow.

Admission: Free
Hours: Monday thru Thursday, 9am to 4pm; Friday, 9am to 5:30pm
Address: 100 North Main
Phone: 417-673-5514

Come visit us in Webb City, Missouri