Wewoka Sorghum Day Festival
Starting date:

Event# 405-257-2662
Event Details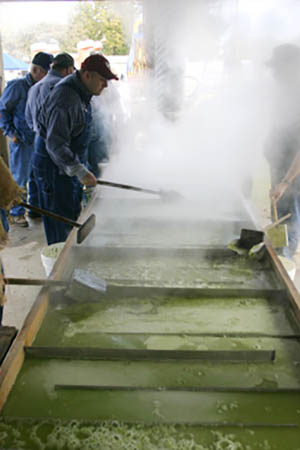 With autumn colors blooming, crisp air and the sorghum cane ripening, also comes Wewoka's annual Sorghum Day Festival. The annual event attracting over 20,000 people, held on the 4th Saturday of October, is known nation-wide for the processing of the sorghum cane into the sweet, black-brown syrup and the authentic 1800s pioneer demonstrations on the Seminole Nation Museum Grounds.

The Sorghum Day Festival began in 1976 when a Wewoka resident donated an antique, 1800s sorghum mill to the community. The annual event has grown in popularity and is now recognized as one of the top ten festivals in the United States with tourists attending from coast to coast.

Along with the 1800s mill operation, you will find great entertainment, educational demonstrations and over 100 vendors with items from all over the Nation. Although the festival is always the fourth Saturday, several events proceed the big day such as the Sorghum Queen Pageant, the Chamber of Commerce Banquet, an art show, the Golf Tournament, and more. Check the website for schedules.

On Saturday a 5-K run begins at 8 a.m., and a parade at 10 a.m. Visit over 150 craft booths, antique tractor show, vintage car show, and a quilt, craft, art & photography show, then live entertainment including local bands and stunt routines.

Work and planning for the festival begins in the autumn immediately following the previous festival when Rotarians begin tilling after the last cane crop. With spring buds beginning to bloom the Rotarians work continues with a second tilling and fertilizing. By June, the carefully tended soil is ready for the planting of the thumbtack sized sorghum seed. One hundred and ten days later the sorghum cane is ready for harvest. The week before the great event is held, the cane is stripped of it's leaves, cut and transported to the Seminole Nation Museum grounds for processing. The harvest process requires a crew of three to five men.

The day of the festival, the sorghum cane is pressed into the antique, 1800s mill. As two mules, harnessed to a pole, slowly turn the mill around and around, a sweet, yellow-green juice is extracted from the cane. The juice is then pumped into a stainless steel pan where it is boiled over a wood fire for an hour and a half until it becomes the sweet black-brown syrup that was favored over maple syrup by the early Oklahoma pioneers. Watching the making of the sorghum has become a special treat and time honored event for many spectators.
Wewoka Sorghum Day Festival
Address :
Main Street
Wewoka
OK
Phone :
405-257-2662
(Always call and confirm events.)
Web Address :
http://cityofwewoka.com
Festivals
Attractions and Upcoming Events
Things to do near Wewoka, OK