Wildlife Weekend Holiday Art Show & Sale
Starting date:
Ending date:
Event# 973-383-8323
Event Details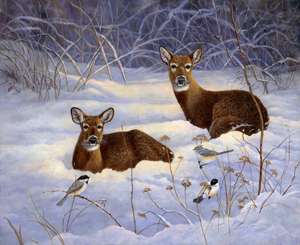 CAROL DECKER, nationally renowned Sussex County wildlife artist will exhibit an extensive collection of her finely detailed artwork. Wide range of affordable art, originals, signed/numbered reproductions and licensed products, and refreshments, all welcome, meet the artist, free admission. In addition, fine art photography by Sarah L. Bachmann is also available for sale. Show benefits local fire fighters, Frankford Fire Dept, and Branchville, Hose # 1.

Decker has won NJ Herald Reader's Choice best artist award three years in a row, and best gallery 2010. She has painted two ornaments chosen to hang on the Christmas Tree in the Blue Room at the White House. The artist was recently invited to visit the White House for an artist's reception honoring the National Parks. All Welcome.
Wildlife Weekend Holiday Art Show & Sale
Address :
Olde Lafayette Village, Rt. 15 & 94
Lafayette
NJ
Phone :
973-383-8323
(Always call and confirm events.)
Web Address :
http://www.lafayettevillageshops.com
Art Shows
Attractions and Upcoming Events
Things to do near Lafayette, NJ