category : Monuments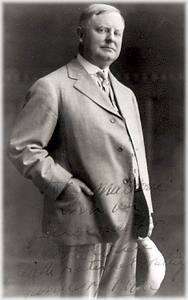 The commemorative marble monument honors the Pulitzer Prize winning editor who was reared in El Dorado.
William Allen White

The world beat a path to the cluttered desk of William Allen White, publisher of a small daily newspaper, The Emporia Gazette in Kansas.

He advised presidents and governors, conferred with statesmen, talked with the great and the near great of the political world.

In his writings he alternately counselled, warned, scolded amused and praised the country in general; Kansas and the Republican Party in particular.

Of himself he once wrote, in an article about a friend:

"As for me, I believe he has always regarded me as slightly mad - something between Falstaff and Don Quixote, with a bit ofvitriolic venom and a jigger of Billy Sunday in the secret formula of my heart's blood."

- in part by the Emporia Gazette, "William Allen White"

Hours: always open
Address: 203 North Gordy
Phone: 316-321-9333
Our Email: history@kansasoilmuseum.org
Our Website:www.williamallenwhite.org/williamawhite.htm

Come visit us in El Dorado, Kansas