category : Museums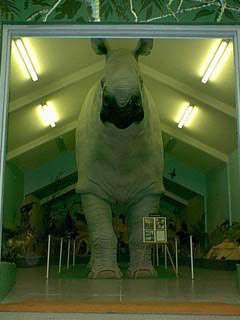 When you walked into the Wyobraska Natural History Museum, also known as Wildlife World, you could not help but utter an unexpected "Wow!"

Wildlife World is temporarily closed pending its re-opening at the Riverside Discovery Center in Scottsbluff, Nebraska in the near future. Check website.

Over 250 animals from all seven continents of the world are brilliantly displayed throughout the 13,000 square foot gallery, each set into its natural habitat, whether desert, mountain, or plains. Many of the animals in the museum are so rare and priceless, they are coveted by such prominent institutions as the Smithsonian. Masterful dioramas canvas the walls as a back-drop for each authentic scene, art that took 10 years of painstaking, meticulous work to complete.

On the ground floor sit the museum's most prized collections, including an authentic life sized replica of the prehistoric Baluchithere, an ancestor of today's rhinoceros and the largest mammal ever to roam the earth. Standing 19 feet tall and 30 feet long, it is the only authentic replica of its kind in the world.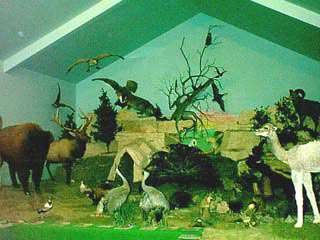 Also unique to the Wyobraska Natural History Museum, is a rare collection of birds and small animals set in picturesque glass dioramas since 1880. Included in the large exhibit is the most perfectly preserved Passenger Pigeon in the world, a bird that became extinct more than a century ago in 1899. The second floor houses an impressive collection of deer, including a rare albino, as well as an exhibit of various prehistoric shells and bones.

The museum offers an experience no zoo could match, giving you the opportunity to stand literally nose to nose with a curious zebra, take your picture riding a proud lion and stand next to powerful jungle cats who, if you didn't know better, make you believe they're about to leap from their place on the exhibit and pounce on the nearest prey.


Hours: Closed
Address: 950 U Street
Phone: 308-436-7104
Our Website:http://riversidediscoverycenter.org/discovery/wildlife-world/


Come visit us in Gering, Nebraska