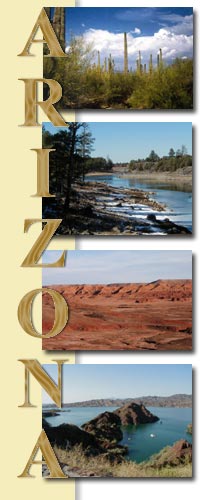 Apache County was carved from Yavapai County — one Arizona's original four counties — on February 24, 1879, by the 10th Territorial Legislative Assembly. Leaders of St. Johns and Globe had petitioned for their towns to be the county seat, but the honor went temporarily to Snowflake, with the provision that an election would determine the permanent county seat. In November 1879, on the strength of votes from the mining town of Clifton (now in Greenlee County), St. Johns was designated the county seat.
Originally, Apache County encompassed all of present day Navajo County, part of Gila County and part of Graham County, but by 1895 its size had been reduced to the 11,216 square miles it occupies today. The Apache and Navajo Indian reservations cover more than 65.4 percent of the county, and 25 percent of the state's Native Americans live here. Approximately 21 percent is public land, and 13.2 percent is privately owned. All of Apache County is an Enterprise Zone.
The forested White Mountains and green pastures in the south of the county contrast sharply with the high, dry, colorful plateau region of the north. Excellent fishing, hunting and skiing make the White Mountains a year-round recreation area. Numerous archaeological sites are open to the public.
Fort Defiance, Arizona's first military post, the Town of Ganado, and Hubbell's famous trading post (now a National Historic Site) are located in northern Apache County on the Navajo Reservation. Chinle, another Indian trade center, is the gateway to the spectacular Canyon de Chelly National Monument. Also in Apache County are the spectacular Petrified Forest National Park and the Painted Desert, Window Rock, the Navajo tribal capital, and Casa Malpais Archaeological site. The Apache Indian Reservation, located in the White Mountains around the settlement of Fort Apache, includes 25 excellent fishing lakes and the Sunrise park Ski Resort for outdoor recreation, as well as a highly successful lumber mill and a casino.
Explore Apache County County
Explore Apache County County