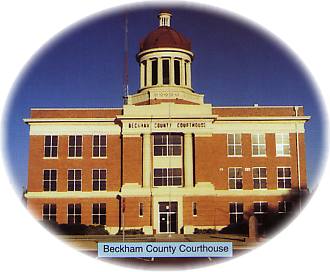 Welcome to the land of real Cowboys and Indians, Rodeos, Route 66, Hunting, Fishing, Boating, Water Skiing, Museums, Antiques, RV Parks, Oil Wells, Huge Farms and Ranches.
If you're inclined to vacation by canoe, you could travel the waters of the North Fork of the Red River from north to south, or if you prefer the paved route, old Route 66, now portions claimed as Interstate Highway 40, will take you east or west through
Beckham County
and some of its towns still reminiscent of those scenic '66 days.
Beckham County
lies on the southwesternmost boundary of Oklahoma along the 100th Meridian, the historic line determining the Louisiana Purchase, issues of slavery, and claims of Texas Territory. The county used to be part of Greer County, Texas until Texas agreed that it and four surrounding counties would belong to Oklahoma. Over the years, the 100th meridian has been surveyed eight times, resulting in some people living in both Texas and Oklahoma without ever having moved! History of the 100th Meridian can best be explored at the 100th Meridian Museum in Erick.
Route 66 will take you through Elk City with the world's largest drilling rig, to Sayre with the "Hollywood" Courthouse, on to Erick, the home of country singer, Roger Miller, and just at the 100th Meridian, the nearly vanished town of Texola featuring an old 1910 stone jail.
Explore Beckham County
Explore Beckham County