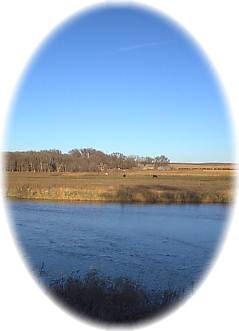 Nebraska's Scenic Highway 14 extends through
Boone County
and provides an excellent one or two day trip to the county's historical and enjoyable cities. Start you day at Albion at the
Boone County
Historical Museum and then on to the Logan Fontenelle Monument in Petersburg. If you are there in August, you will enjoy the Nebraska State Antique Tractor and Horse Plowing Bee. Just north and west about two miles you will see the twin 100 foot tower of St. Bonaventure's Catholic Church dominate the countryside at Raeville. Seating over 600, the Romanesque structure contains beautiful stained glass windows and paintings.
In the lower west corner of the county the town of Cedar Rapids lies along the Cedar River which flows gently through the eastern sandhills. Perfect for float trips, the clean, sandy bottom river is excellent for swimming and summer fun. Cedar Rapids is also the location of the historic St. Anthony's Church and School.
Throughout the county are some of the best small fishing lakes in the state. Bass, bluegill, pike, crappie and catfish abound in lakes and streams within driving distance of the local towns. For hunters,
Boone County
has something for everyone with outstanding pheasant, quail, rabbit, squirrel, deer, prairie chicken, coyote, dove, duck and wild turkey hunting.
Explore Boone County
Explore Boone County