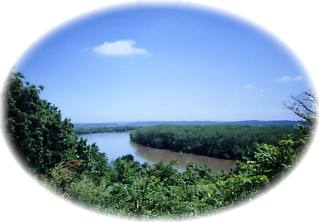 Burt County is one of the four counties located along the historic Lewis and Clark Byway, Highway 75, that parallels the Missouri River running along Nebraska and Iowa. The designated byway is abundant with natural beauty, recreational opportunities, and archaeological qualities rich in the history of this country.
Burt county is one of the oldest counties in the state, being one of the original eight counties which comprised the Territory of Nebraska. It was named for Nebraska's first Territorial Governor, Francis Burt, of South Carolina. He was appointed by President, Franklin Pierce, in 1854, and died only two days after taking office.
Tekamah was the first settlement in the county and was alone for a long period of time. In turn, the surrounding area rotated around it.
It wasn't until after the Civil War that settlers began locating on homesteads further west. Tekamah become the county seat
after a courthouse war in 1877. Much of the early history of the first settlements on the west side of the Missouri River is available at the Burt County Museum located in Tekamah. Five other National historic sites are located in Tekamah including the 1917 Burt County Courthouse.
The second oldest community in Nebraska, Decatur, is best know for its historic bridge across the Missouri called, Dry Land Bridge. In 1950, the river had shifted its channel. leaving the bridge dry-docked. In 1954, the river was rerouted back to its original channel. Five miles south of Decatur adjacent to Highway 75 on private land is historic Golden Spring. On its sandstone cliff are names carved by the pioneers who paused to refresh themselves and their animals, and by French and Spanish fur traders 150 years before the area was settled.
On Blackbird Hill overlooking the Missouri River a mound of dirt nearly 45 feet high marks the burial site of the great Omaha Indian Chief Blackbird. On August 11, 1804, Lewis and Clark visited and decorated the grave. An interpretive pavilion on Highway 75 between Decatur and Macy commemorates the site.
Logan Creek in the Oakland vicinity is the historic archeological site where excavations revealed successive layers,
each representing a reoccupation of the site. The site dates 6000-4000 B.C. and offers an unusually rich record
of activity during this early period of Nebraska's prehistory. Troll Stroll Nature Walk features twenty-four colorful wooden trolls positioned along the way. In town, the Swedish Heritage Center offers a look at the culture of some of the early settlers in Oakland.
St. John's Evangelical Lutheran Church is a beautiful example of German folk architecture located near Highway 77 in Lyons.
Explore Burt County
Explore Burt County