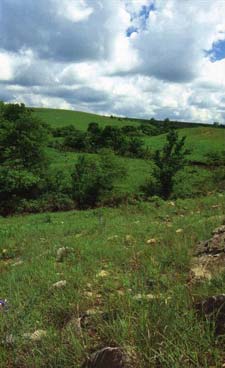 Butler County
has been a rich cattle grazing land since the 1860s. As early as 1857, the first pioneers looked down on the beautiful Walnut River valley and decided to make it home. At the center of the Flint Hills, the area has changed little since Captain Zebulon Pike noted the hills covered with flint rock cobbles during his 1806 expedition across Kansas. The Name "Flint Hills" had identified the region ever since.
Since the beginning a lore of cowboys, cattle drives, and western style living has entertained and amazed the area traveler. The first cattle drives began in Texas during 1865 when animals were driven to Kansas railroads through the Flint Hills. By 1885 the wild Texas cattle drives were over and 5 million cattle had passed through the Hills on their journey to eastern markets. The era of custom grazing of out-of-state cattle began, and today over 1 million head of cattle are fattened annually on the lush pasture land.
The peaceful tranquility of the region changed forever when oil was discovered near El Dorado in 1915.
Cattle grazing and bottom land farming gave way to the mixed economy of beef and black gold.
Several area driving tours are available for the interest of the photographer, bird watcher, fossil hunter, antique lover, fisherman or amateur historian. So treat yourself to one of the best kept secret in the land -
Butler County
, where rich history, breathtaking scenery, and adventure abound.
Explore Butler County
Explore Butler County