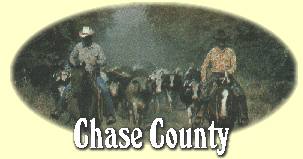 Q: What do 100,000 cattle, Knute Rockne, Samuel N. Wood and limestone have in common?

A: Chase County, Kansas.


Travel Route 177 to Chase County and you'll be deep into the heart of the Flint Hills where the sky expands and the land begins to rise and fall like waves on a sea of grass. Much of the land in an area 30 to 40 miles wide along the byway has remained unchanged for thousands of years.


Two miles north of Strong City, the Tallgrass Prairie National Preserve protects a portion of pristine prairie. This fragile ecosystem is home to 40 species of grasses, 200 species of birds, 30 mammals, plus reptiles, amphibians and as many as 10 million insects per acre.


Further south you'll discover the magnificent residence of the late 19th century cattle baron, Stephen F. Jones at the Tallgrass Prairie National Preserve. The historic ranch headquarters features a Second Empire-style mansion made of hand-cut native limestone, as well as an enormous three-story barn. The Lower Fox Creek School, a traditional one-room schoolhouse, sits on a nearby hilltop.


Cottonwood Falls is home to the Chase County Courthouse, the oldest courthouse still in use in the state. Built in 1873 with native limestone and walnut, this Second Empire-style building is an architectural jewel shining in the Flint Hills.


For years Chase County has been considered the heart of the Flint Hills, with the gently rolling hills and vast sea of grass extending in a narrow band from Oklahoma to near the Nebraska border. The Kansas Flint Hills remain as the only extensive area of tallgrass prairie in the eastern Great Plains.


Each spring about 100,000 stocker cattle come to the Bluestem Grasslands of Chase County to graze for a period of 90 to 150 days. These cattle come from all areas of the U.S. and Mexico including Texas, Oklahoma, Missouri, Arkansas, Kentucky, Tennesseee, Florida and Colorado.


Chase County was named for Civil War Era statesman Salmon P. Chase. As a senator from Ohio, he voted against the Kansas-Nebraska bill which made Kansas a territory in 1854. Later he was Secretary of the Treasury in the Lincoln cabinet and also Chief Justice of the Supreme Court.

Explore Chase County
Explore Chase County