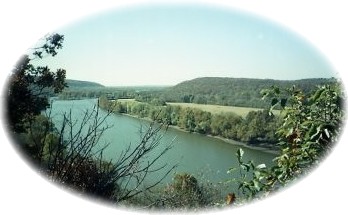 This area is inseparably linked with the history of the Cherokee. Before 1800 the area was the ancestral home and territorial hunting domain of first the Caddo and then the Osage Indians. Most Indian artifacts found will be of these tribes.
About 1800 an Indian trader named Lovely made a purchase agreement with the Osage for a 100 mile square of land which became known as "Lovely's Purchase." He built a courthouse which was the seat of government affairs. It was located at a site first known as "Kidron" and later, after the Cherokees arrived, as Dwight Mission. Dwight Mission is fifteen miles east of Gore and north of Highway 64. The first known white man to bring his family and settle here was Captain mark Bean in 1803. He built a farm on the bank of the Illinois River encompassing the area of the Lake Tenkiller Dam.
The Treaty of 1817, between the U.S. Government and a portion of the Cherokee Nation, started the Cherokee migration to this area. This Western nation and Chief John Jolly established a settlement and capitol called Tahlanteeskee with a National Council House and Courthouse on the Illinois River just east of Gore. The Cherokee Nation maintains this historical site for visitors.
When the Eastern Cherokee Nation was driven from their homeland on the "Trail of Tears" in 1838-1839 the two nations were reunited and the capitol was reestblished at Tahlequah. Captain Mark Bean and numerous other white pioneer settlers were forced to move from this area by the U.S. Government in 1829 because the land was decreed "Cherokee Land."
A member of the Western Cherokee Nation by the name of George Gist (Sequoyah) developed the Cherokee alphabet (syllabary) about 1820 so the tribe could better communicate in their language on paper. He became a noted leader in the Cherokee Nation. His historical home site and Memorial is located a few miles north of Sallisaw.
The Cherokee Nation, now a model of the result of creating success from hardship, has maintained several historical sites which have developed since its arrival in Oklahoma. In and near Capitol Building, the old Tribal Prison, Cherokee Supreme Court Building, Female Seminary built in 1889, an historic Indian Village, Museum, and the famous outdoor at Tsa-La-Gi. South of Tahlequah, the W.W. Keeler Cherokee Nation Tribal Complex has provided administrative and legislative offices for the Cherokee Nation since 1979. Today, the Cherokee Nation boasts a membership of more than 160,00 with an annual budget in excess of $86 million.
Explore Cherokee County
Explore Cherokee County