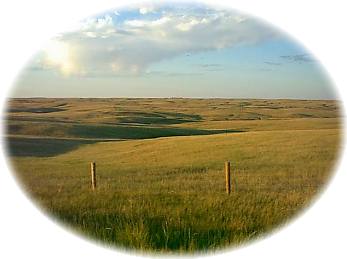 Cherry County has an abundance of natural beauty, from the rolling Sandhills to the awe inspiring Niobrara River valley. The Arthur Bowing Sandhills Ranch will give its visitors a glimpse of the past as well as the present. It is a working ranch with many of its historical elements still in place.
Visit Fort Niobrara National Wildlife Refuge and see buffalo, elk, Texas longhorn, a prairie dog town, and Fort Falls. To gain a full appreciation of the striking beauty of the Niobrara River, canoe or tube the river. Smith Falls is the tallest falls in Nebraska, tumbling 75 feet, and is one of several waterfalls along the Niobrara River. There are several outfitters that rent canoes, tubes, and even bicycles. Hiking, biking, or equestrian is the way to see the Cowboy Trail.
For sportsmen, there is hunting, fishing, camping, and boating at Merritt Reservoir and the Valentine National Wildlife Refuge. Merritt Reservoir south of Valentine has almost 3,000 acres of water to provide a recreational area which offers camping and is an excellent fishing area along with water sports and hunting.
With all there is to see and do, Cherry County is truly a vacation paradise.
Explore Cherry County
Explore Cherry County