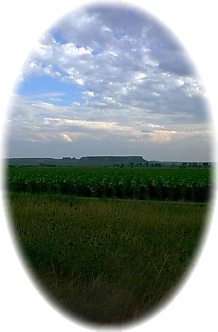 Cheyenne County is home to some wonderful places of interest. Located on U.S. Highway 30, is Sidney. Sidney offers plenty to see and enjoy. From 1869 to 1894, Sidney served as the site for the Fort Sidney Military Post, playing a vital role in the early development of the community. It also served as a site for the Pony Express and many of the western trails that came through the area as settlers headed west. Experience the life of the 1867 Soldier while you visit the Fort Sidney Museum and Post Commanders Home. Next take a stroll through Sidney's Historic Downtown District, and for even more, enjoy the tranquillity of Sidney's Legion Park, home of the Memorial Gardens and the thought-provoking War Memorial.
Located on U.S. Highway 30 and Interstate 80, 16 miles west of Sidney is Potter. Potter was incorporated as a village in 1912. It was named after General Joseph S. Potter, Union Pacific Railroad Director. Union Pacific built a station house at Potter in 1970 which also served as a post office, school house and land development office. Potter's attractions include a city park with playground equipment, Depot Museum and an antique store.
Founded in 1867, platted in 1884 and incorporated as an official village in 1901, is Lodgepole. The name is derived from the creek bearing the same name, stemming from when the Indians cut poles for tepees along its banks. It is the second oldest community and is on the eastern edge of Cheyenne County. Some of the sites to see in Lodgepole are the Lodgepole Depot Museum, Nancy Fawcett Memorial Library, Gazebo - Dedicated to the Kreider family, and lighted tennis courts.
Founded in 1913, Gurley is located on U.S. Highway 385 approximately 12 miles north of Interstate 80 at Sidney's East Interchange. Settlers had begun arriving in the area as early as 1884. The community was named for Fred R. Gurley, who was then Superintendent of the Burlington-Northern Railroad. Make sure to take the time to see the attractions such as the historic post office, Egging oil well monument, and the historic railroad water tower. You may also enjoy the city park with playground equipment, public gymnasium (by appointment at school), football field, and lighted tennis court.
An agricultural community on U.S. 385, 20 miles north of Interstate 80 at Sidney's East Interchange is Dalton. The first depot was built in 1908 and the town was incorporated in 1909. Enjoy your day at Dalton's city park with playground equipment or visit the Prairie Schooner Museum, and the authentic pioneer log cabin.
Explore Cheyenne County
Explore Cheyenne County