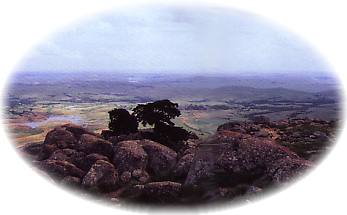 In southwest Oklahoma, the golden shortgrass prairie extends for mile after mile - proving this captivating corner of Oklahoma more than lives up to its Great Plains Country title. Less than a century and a half ago, the Southern Plains were the domain of the Kiowa and Comanche who hunted buffalo until the herds were almost exterminated from the plains in the last half of the 19th century. Today, bison, longhorn cattle and elk roam free at the 60,000-acre Wichita Mountains National Wildlife Refuge.
The Wichita Mountains are remnants of a mountain range that was formed more than 500 million years ago and subsequent erosion has resulted in the exposure of the granite and gabbro core. These mountains rise abruptly from the relatively flat surrounding plains, with several peaks on the refuge exceeding 2000 feet above sea level, interspersed with valleys and prairie grasslands.
It would be another century, on January 8, 1869, before Major General Philip H. Sheridan staked out the site that would become Fort Sill.
In July 1901, 29,000 homesteaders registered for the land lottery at Fort Sill. On August 6, the town of Lawton sprang up and quickly grew to become the third largest city in Oklahoma.
Lawton-Fort Sill flows southward into a flat plain with the Wichita Mountains serving as a dramatic backdrop to the north. Thousands of tourists visit the National Wildlife Refuge in these mountains each year to explore an area full of roaming wildlife, romantic history, picturesque scenes, and the towering splendor of these mountains.
The peak of Mt. Scott, which towers 2,465 feet above sea level, can be reached by venturing the winding road that climbs above the refuge floor. The Holy City of the Wichitas is located nearby. This is the site of the famous Easter Pageant held each year on Easter Eve. The structures are recreations of the ancient city of Jerusalem and are open to the public for viewing. There are also several lakes and streams in the surrounding areas.
Explore Comanche County
Explore Comanche County