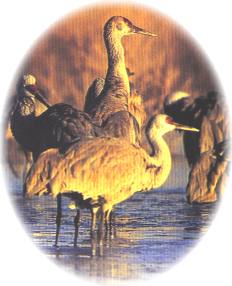 For those who remember the massive flocks of waterfowl that once winged across the skies of southwest Oklahoma's
Tillman County
, it has inspired visionaries to restore one of the state's most glorious natural treasures. That treasure is Hackberry Flat Wildlife Management area, a 7,120-acre wildlife oasis located in south central
Tillman County
.
When pioneers arrived on the plains of southwest Oklahoma a century ago, they encountered clouds of waterfowl so thick that they darkened the skies of
Tillman County
. At times, the noise from the birds winging overhead was deafening, and the noise created by the calls of so many species lasted from dawn until dusk.
Initially, the area's abundant wildlife and rugged landscape drew the attention of one of America's most famous outdoorsmen, President Theodore Roosevelt. He visited and hunted near hackberry Flat in what was known as the "Big Pasture." Among others, President Roosevelt, and local "wolf" hunter, Jack Abernathy, and the last Comanche Chief, Quannah Parker, hunted coyotes near Hackberry Flat in 1905.
Explore Tillman County
Explore Tillman County