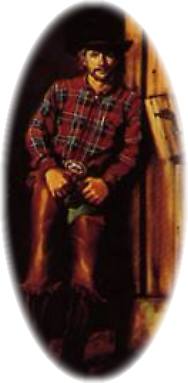 The
Craig County
Courthouse was created at statehood from the two-thirds of Recording District 3 in the old Cherokee Nation. It was named after Granville Craig, a prominent Cherokee merchant in the area.
The county seat is in
Vinita
, which was once a renowned railroad town that was established in 1871 by the Cherokee attorney, Elias C. Boudinot. Situated at a strategic crossroads, the town eventually became a territorial recording town and important commercial center.
Although Vinita wasn't founded until 1871, there was a great number of settlers in the area before then. Not far from Vinita, Cabin Creek, was the site of a huge Civil War battle. In 1864, Confederate forces captured over 100 wagons, about 720 mules and other goods valued at $500,000. Every third year since 1992, a reenactment of this battle is held at the Cabin Creek site.
Cabin Creek Station was only one of the many stage station stops located all along the main north-south route known as the Osage Trace, The Texas Road, and the Military Road. The "Osage Trace" had been in existence for more than 1,000 years as the route most often used by migrating plains Indian tribes. The "Military Road" marked the far western frontier linking the many U.S. Army posts from Minnesota to eastern Texas. With the establishment of the Indian Territory, the area around Cabin Creek Fort became the property of the Cherokee Indian Nation. The area around the crossing was leased by Joseph "Greenbrier Joe" Martin. The Martin family is probably the second oldest established family in the Cherokee Nation and the State of Oklahoma. Joe Martin established his plantation home of nearly 17,000 acres near the present day Strang, Oklahoma. He in turn leased more than 100,000 acres from the Cherokee Government of which the crossing at Cabin Creek was a part. The area of the crossing served as the summer ranch home of the Martin family as well as a stage stop and small farm and ranch community located nearby. Joe Martin and his family were mixed blood. He owned more than 100 slaves and employed some 15 full blood Cherokee as personal and home servants. The Cabin Creek Ranch was quite extensive in operation and was called "Pensicola". The plantation home near Strang was known as "Greenbriar", from which Joseph Martin received his name, "Greenbriar Joe". The plantation home was said to have been the equal to any in the south.
In the northern part of
Craig County
, Williams Cemetery east of
Welch
is the burial place of gangster, Kate "Ma" Barker and her sons.
Explore Craig County
Explore Craig County