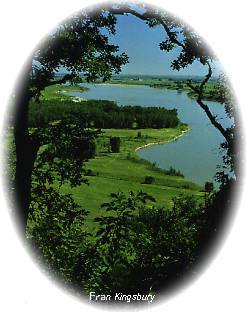 From the beautiful hills and river views of the historic Lewis and Clark Trail, to the communities (both bustling and laid-back), to the tall grass prairie teeming with native plants and wildlife, including buffalo, in a rotational grazing project along U.S. Highway 20 near Dixon, to commercial poultry farms and egg processing at Wakefield - you will find the time spent in
Dixon County
rich and full of interesting people and places.
Dixon County
, which hosts a countywide Veterans Day Legion Auxiliary convention and banquet, welcomes one and all to spend some quality time as its guests.
Ponca State Park offers more than 1100 acres of scenic landscape nestled in wooded bluffs. Sixty miles of the beautiful Missouri River remains undisturbed in the Ponca State Park. One of the world's largest Pipeline Suspension Bridges stretches across the Missouri River at the state park. Enjoy the view of three states from the ridges above the river (Nebraska, South Dakota and Iowa). Ride on the actual Lewis & Clark Trail, stroll over 17 miles of walking trails, drive through miles of scenic timber, cool off with a swim in the park's pool, enjoy boating in the mighty Missouri River. Horseback riding, camping and picnicking are all available in the natural beauty of one of Nebraska's finest state parks.
Explore Dixon County
Explore Dixon County