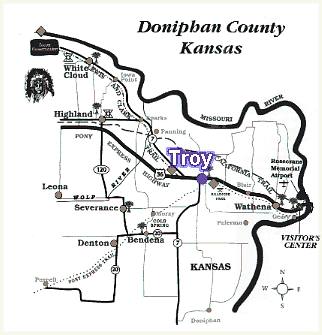 In thebeginning a series of glaciers covered the land with mountains of ice, carving a landscape of hills and valleys, giving
Doniphan County
the name of "Little Switzerland.
Doniphan County
was the first named Kansas county. Founded 140 years ago,
Doniphan County
and its quiet little towns seem unaffected by the passing of time making it easy to imagine you are in 1856 Kansas once again. Captivated by rolling hills and valleys you can easily envision Indian growth and adventure, when riverboats arrived and departed regularly and business thrived. Bordered on three sides by the Missouri River, the county offered great advantages for markets and profited enormously. River towns sprung up, steamboats supplied the towns and unloaded travelers and freight headed for the Western Interior. Immigrants came from as far away as Switzerland, France and Germany. A French influence is recognized in the extravagant architecture of homes and buildings constructed.
Traveling along K-7 Highway, north of Sparks, imagine the steamboats accepting the challenge of the mighty Missouri as they deliver passengers and goods to the towns along the way. can't you just see the boats docked on the levees? The wagons and people are busy and lively. There is a great hustle and bustle of excitement.
Doniphan County
is blessed with rich natural resources, a beautiful landscape, a large river, woods, wildlife and rolling hills. We enjoy what we have and would like to share it with you.
Explore Doniphan County
Explore Doniphan County