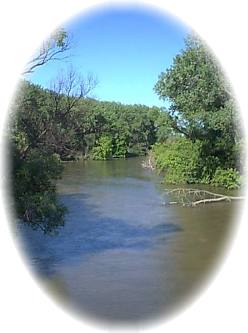 Present
Franklin County
was formerly a part of the buffalo hunting range of the Pawnee Indians whose villages were at one time located further down the valley of the Republican River. Cheyenne and Sioux hunting parties also frequented the area prior to 1869, when General Carr's Republican River Expedition cleared the valley of hostiles, opening the region to white settlers.
Franklin County is an area rich in history. Even today, you can visit the buffalo wallows or "lookout mountain" in search of Indian arrowheads. You may even find a small pioneer family cemetery in the middle of a pasture.
The Thompson Colony scouted this area in 1870, returning to Omaha with tales of rich, bountiful land. This encouraged land claims, and in 1871 ground was broken and a county was formed. At first there was some
confusion, with the "towns" of "Franklin City,"
"Waterloo," and "Franklin" shifting around, hoping
for the best spot near Center Creek. Locating at its
present site, only Franklin survived and proceeded
to grow in an orderly manner. There were the usual
early stores, livery stables, blacksmith, harness and wagon shops, produce and live stock buyers, etc.
Franklin City, a few miles from Franklin, was named the
county seat in 1872, only to lose it to Bloomington (formerly, Waterloo) two
years later. (People from Franklin City later moved their
buildings to Franklin.) It wasn't until an election in 1920, that the county
seat moved again, this time to Franklin. The "courthouse
affair" was finally settled in 1925 when the new building
was finished.
Explore Franklin County
Explore Franklin County