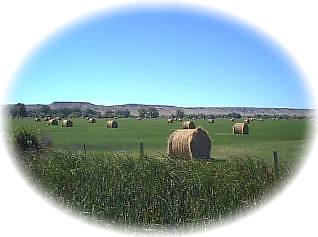 With an expanse of ranch and agricultural acres in the North Platte River Valley, Garden County provides an abundance of upland birds, waterfowl and deer for hunting enthusiasts, and those hunters enjoy an immensely extended season.
As the state's birding hot spot, over 310 species have been identified.
Garden County and neighboring Keith County to the east are the best places in the state and the third best in the country to go birding. The area has the third largest local list for any locality in the entire United States. The reason the area attracts so many different bird species is its range of habitats - a larger reservoir, Lake McConaughy, that stays open most of the winter, the North Platte River, coniferous forest in the cedar bluffs on the south side of the reservoir and the river, deciduous forest next to the river, and the Sandhills grasslands with the Crescent Lake National Wildlife Refuge 20 miles north of Oshkosh.
Garden County, choosing the
title as "garden spot of the west," was formed in 1909, when Deuel County was divided, and Oshkosh was elected as its county seat.
It surrounds the
valley of the North Platte River, once plied by French
traders in their buffalo skin boats, and closely followed by
Mormon hand carts, Oregon Trail wagon trains, and
California prospectors. Nearby Ash Hollow provided a
camping place for weary travelers.

Today, near the town of Lewellen, Ash Hollow is a State Historical Park where
interested travelers may learn of ancient Indians, early
emigrants, and events such as the Battle of Blue Water. They may visit the 1849 grave of Rachel Pattison, the beginning of Ash
Hollow Cemetery, and Ray Brown's sod house, a remnant of the stupendous Ash Hollow Centennial Pageant of 1967. They
may climb Windlass Hill where Oregon Trail ruts are still visible.
Explore Garden County
Explore Garden County