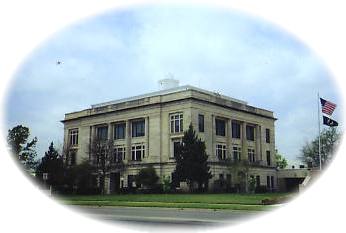 Garvin County
was named for Samuel Garvin, a prominent Chickasaw Indian. This area was a part of the Chickasaw Nation in Indian Territory before Oklahoma's Statehood.
History is rich here. Goldseekers crossed
Garvin County
in 1849 on the California trail, and military roads passed through here long before statehood. Fort Arbuckle, important in civilizing the west, was established near the county's southern boundary in 1851. It was the initial point from which all surveys were made in allotting lands and determining property ownership in what became Oklahoma. Fort Arbuckle was abandoned in 1870 and little remains today.
Famed aviation and space pioneer, Wiley Post grew up in Maysville. The Washita Valley Historical Museum in Pauls Valley has archeological and anthropological exhibits of this area. The Eskridge Hotel in Wynnewood, circa 1907, retains the atmosphere of pioneer days and also has a small museum. At Erin Springs near Lindsay, stands the largest farm in cultivation in all Indian Territory.
Garvin County
is the center of the area's agricultural industry which includes production of livestock, mostly beef, and a variety of crops such as, pecans, peanuts, soybeans, alfalfa, corn and broomcorn. Oil, however, continues to contribute to economic growth of the area, known to oilmen as Oklahoma's Golden Trend. A major petroleum refinery is in Wynnewood and working wells and drilling rigs are spotted throughout the county.
Pauls Valley is the county seat of Garvin Count;y and was named after pioneer settler Smith Paul, who was the first white settler in this part of the Washita River Valley, and who owner much of the Valley. In 1847, Smith Paul described this portion of the Indian Nation as "a section where the bottom land was rich and blue stem grass grew so high that a man on horseback was almost hidden in its foliage".
Explore Garvin County
Explore Garvin County