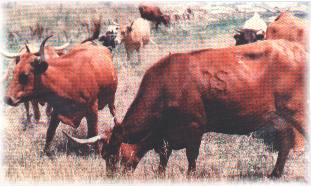 Contrary to the beliefs of many that Kansas is very flat, our county is a land of hills. In the west, the stately Flint Hills rise to dominate the view. As you cross the country from west to east, they give way to the rolling foothills which are interrupted only by two major rivers and their tributaries.

Mother Nature carpeted the entire county with native grasses -- primarily big bluestem. Long ago it was discovered that the grass is nutritious and will fatten cattle in a way that was previously unknown. This fact led to the ranching industry which prevails as the No. 1 business of our people today.


In 1857, the first of a large number of Norwegians began to establish their homes in the upper Fall River Area. In 1870, the first of several African-American families came to the Spring Creek area near Reece. The third ethnic community developed in Shell Rock Township. A group of people of German and Swiss heritage moved there and settled down as good farmers.


Railroads began to reach Greenwood County in 1879. Three railroads--the Santa Fe, Missouri Pacific, and the "Frisco"--served the ranching industry well until good highways were built. Today, all the rail lines are gone with the exception of the "Frisco".


Oil was first discovered in Greenwood County in 1917. Oil camps sprang up near the largest oil pools with as many as 1,000 people. Oil is nearly depleted today, but working wells can still be seen dotting the landscape. There is little evidence now that the camps ever existed.

Explore Greenwood County
Explore Greenwood County