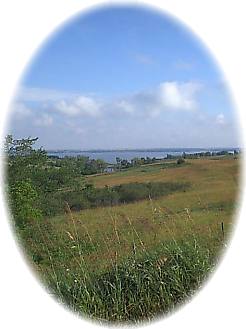 Was there really an island in
Hall County
, Nebraska? Yes, there was . La Grande Ile was named by early French fur traders in the 1700s and formed by a narrow channel branching off the Platte River approximately 28 miles upstream from the present city of Grand Island and rejoining the main river about 12 miles downstream from the city. La Grande Ile was the largest inland island and estimates of its size range from 40 to 70 miles in length and 1 1/2 to 3 miles wide.
La Grand Ile was an important plain's landmark for the fur traders and pioneers. 1857 brought the first settlers to
Hall County
and the city of Grand Island incorporated in 1872. In Grand Island and
Hall County
you are at the crossroads of America.
As you travel Interstate 80, Route 30, 34, and 2, you parallel the early days' trails that passed through the immediate area. The Mormon Pioneer Trail, the California Trail, the Omaha and Fort Kearney Road, The Nebraska City Cutoff Trail, the Oregon Trail, the Ox Bow Trail, and the Pony Express went through the heart of
Hall County
. The Platte River is a braided river and one of only two in the Northern Hemisphere.
Hall County
contains history of epic proportions from early occupation by the Sioux Indians, the arduous journey of the persecuted Mormons along the Platte River to their haven in Salt Lake City, Utah, to the numerous markers and monuments of pioneer hardships and settlements along the famous overland trails. A self guided tour of over 75 historic sites throughout the county has been prepared by the
Hall County
Historical Society and can be requested by calling.
Explore Hall County
Explore Hall County