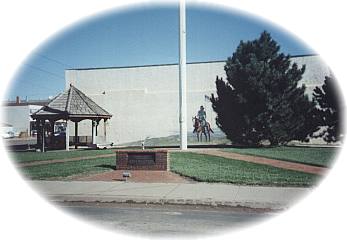 Before the advent of the white man, the only perennial inhabitants of western Kansas were the Comanche, who followed the transient buffalo herds across the High Plains. Occasionally the vagrant peoples of the Apache, Arapahoe, Cheyenne, and Kiowa tribes invaded the Comanche domain in search of food, but they stayed only briefly before moving on.
The greatest of the French plains explorers were Pierre and Paul Mallet of Canada, who set out in 1739 with a load of trade goods, and headed toward the Arkansas River. These daring Frenchmen were the first white men to set foot in
Hamilton County
.
Another early explorer through our county was Lieutenant Zebulon M. Pike, who was sent west in 1806 by President Jefferson to help secure the claim of the United States to its newly acquired Louisiana Territory.
Major Stephen H. Long was part of the Yellowstone Expedition in 1820, who traveled southward to the Arkansas River.
Fort Pleasant near the Kansas-Colorado border was the first permanent building in
Hamilton County
, being constructed in the early 1860s. It consisted of an adobe and sod floor and stockade which was garrisoned to protect overland mail service and caravan travel. The fort was soon abandoned, but was reoccupied in 1871, when the Hardesty Brothers moved their ranching operation from Colorado, making it their headquarters. Another early rancher was R.M. Wright, Dodge City, who began a ranching enterprise near the present site of Kendall in the early 1860s. He was ordered away by government authorities because the isolation of the ranch prevented adequate protection and was an invitation to Indian attack. The first homesteader in
Hamilton County
was John J. Donohue, who came on a government freight train drawn by oxen and mules in 1869. A farm implement he had sent away to be repaired was the first piece of freight hauled into the county on the newly built railroad.
Fort Aubrey was established in September, 1865, by two companies of the volunteer Wisconsin infantry and one company of cavalry. It was built to protect the Santa Fe Trail between Fort Dodge and Fort Lyon, Colorado. The site for the fort was recommended by Colonel Francis X. Aubrey, who discovered good water in the springs there when hostile Indians forced him to use the Bear Creek natural pass through the sandhills to the Arkansas River in 1849 or 1850. The outpost was consequently named in his honor.
The Atchison, Topeka, and Santa Fe Railroad Company completed their road to the state line in 1872 and brought with them the first colony of settlers to
Hamilton County
, from Syracuse, New York. The Boundaries of
Hamilton County
, Kansas were established on March 6, 1873 by an act of the Kansas State Legislature. The county was named for Alexander Hamilton.
Explore Hamilton County