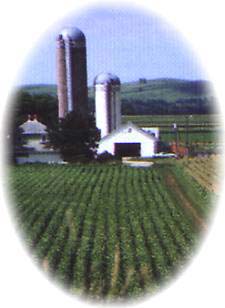 Howard County
in Central Nebraska is traversed by the American Legion Memorial Highway, U.S. 281, with services by the Union Pacific Railroad and far reaching Interstate 80.
Settled in the late 1800s by Danish and Polish immigrants, their cultural traditions bring color and celebrations visited by families from all around the county. Dannebrog was named for the Danish flag. This banner, a red flag covered by the white cross, that means beauty, goodwill, love, peace, and God-given ideals, was first displayed in 1219 A.D., and is considered to be one of the oldest flags in the world.
An annual "Grundlovs Fest" was held in Dannebrog for many years. Recently revived on June 5, 1988, the festival was again a great success.
One of Dannebrog's most famous citizens is Roger Welsch, nationally known for stories of early Nebraska, folklore, and Liars Hall of Fame. Welsch, usually dressed in bib-overalls, currently broadcasts a brief "Post card from Nebraska" on the Charles Kuralt Sunday Morning program.
Farwell was started in 1887 by Polish immigrants and called "Posen. Two years later, because of concern for this nationality identity, a petition was circulated to have the name changed. A Danish word "Farwell" was chosen, which means "good-bye," (good-bye Posen!)
"St.Anthony's Catholic Church is the oldest Polish parish west of the Mississippi. It was organized in 1887 about two miles south of Farwell.
St. Paul is the county seat of
Howard County
and is the location of the Museum of Nebraska Major League Baseball which houses memorabilia of five Nebraska Baseball Hall of Famers including its own, Grover Cleveland Alexander.
Howard County
history is exhibited at the Historical Village which is a complex of several buildings from around the county and artifacts revealing a way of life passed down from early pioneers and settlers.
Explore Howard County
Explore Howard County