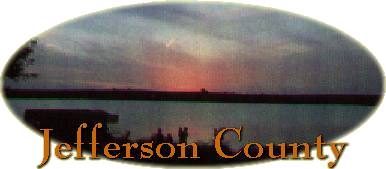 Originally the land was the home of the Kanza Indian tribe where buffalo roamed. In 1827 Major Daniel M. Boone, son of famous Kentucky pioneer Daniel Boone, established Kansas' first settlement in
Jefferson County
. The United States Government established a reservation there for the Delaware Indians who were relocated from Indiana and Ohio. The "Old Military Trail" route through the county was used by the cavalry between Fort Leavenworth and Fort Riley.
Jefferson County
is named in honor of former President Thomas Jefferson. It was Jefferson who acquired this parcel of land as a part of his famous Louisiana Purchase.
In the 1850s Kansas became a territory, and county boundaries were established by Kansas' first Territorial Congress. It was a violent era known as "Bleeding Kansas" because of the conflict between Free-Staters (Jayhawkers) and the proslavery faction.
Jefferson County
was the sight of two major Civil War battles--the Battle of Hickory Point and the Battle of Slough Creek.
After the Civil War, railroads became a dominant factor in the growth of
Jefferson County
Land grants were awarded to the Kansas Pacific (Union Pacific) and Atchison-Topeka (Santa Fe) railroads. The land grants were a major incentive for immigrants to settle in Kansas. This resulted in the development and growth of a prosperous agricultural region.
Today, the spirit of the pioneer continues in one of the most beautiful parts of Kansas. Come visit
Jefferson County
..for the fun of it.
Explore Jefferson County
Explore Jefferson County