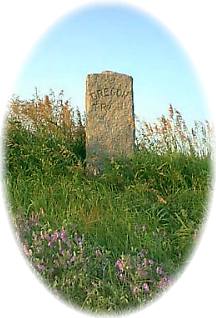 Visitors to Jefferson County and the Fairbury area will find themselves deep in the heart of Oregon Trail Country. The historic trail, on which thousands of immigrants traveled west to California and Oregon, cuts diagonally across the county from the southeast corner to the northwest. Wagon ruts are still visible at Rock Creek Station Historical Park southeast of Fairbury, at George Winslow's grave site north of Fairbury and at various other locations across the county. Monuments have been erected along the route, along with monuments marking the sites of the Pony Express Route which also ran through the county. A monument marking the major stations in the county along with a Pony Express plaque is also located on the northeast corner of the Jefferson County Courthouse in Fairbury. The Tri-County Oregon Trail Monument gives the legend of the Oregon Trail through Washington County, Kan., Gage County and Jefferson County.
For twelve years and nine months, while Nebraska was still a territory, the present Jefferson County was Jones County. In 1867, Nebraska became a state, which included one very sizeable county called Jefferson. In 1871, D.C. Jenkins introduced a bill to divide this large county with the Sixth Principal Meridian being the division line. The settlers voted in favor of ratification and the eastern part became the present Jefferson County and the western portion has henceforth been known as Thayer County.
Tales of the discovery of gold attracted thousands of people to travel through the area on their way to the mountains. By the late 1850s road ranches were established to provide these fortune seekers with supplies. At Rock Creek Station on the Oregon Trail and Pony Express Route the legend of "Wild Bill" Hickok was born after he gunned down one David McCanles, and two station attendants.
The hills and canyons south and west of the Oregon Trail offered ideal places of retreat from which outlaws, robbers and desperados based their operations. Evidence of usage has been found of several such places. Rock-enclosed springs, remnants, and rock walls with a remaining position of certain rocks and soil indicate man's habitation of the area many years ago.
A Jefferson County self-guided day trip is listed in the attractions section and provides information about many historical sites throughout the county.

---
Explore Jefferson County
Explore Jefferson County