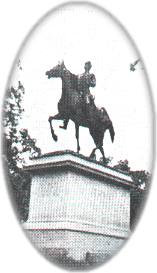 Kearny County
was named for General Philip Kearny who was noted for his dash and courage and was idolized by his soldiers. He was killed at the battle of Chantilly, Virginia, in 1862.
Kearny County
has a most interesting history which began long before most other western counties of Kansas, except those which, like it, were on the Santa Fe Trail. The Indians followed the Arkansas on hunting and other expeditions for countless years before the white men came.
For fifty years (1822-1872) from the time Becknell led the first caravan from Westport to Santa Fe, until completion of the Santa Fe railroad to Colorado in December, 1872, the trail through our county was used by ever increasing numbers. Scouts, trappers, hunters, traders, soldiers, adventurers, Spanish, French, Mexicans, Americans, men of high and low degree with their oxen and wagons made deep ruts across the county.
It is thought by some authorities that Coronado (1541), the first white man to visit Kansas, passed up the Arkansas River on his return trip when he failed to find the fabled cities of Cibola in the kingdom of Quivera.
Trappers were following the river as early as 1816, when Chouteau defended himself against a band of 200 Pawnee Indians on the island five miles west of Lakin, which bears his name.
Explore Kearny County
Explore Kearny County