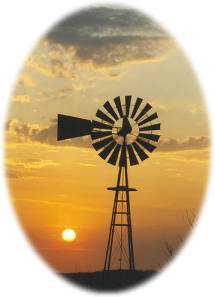 The first inhabitants of
Lane County
were the buffalo and the Indian. The land was a great grazing ground for the buffalo, and the Indians used its meat for food and its hide for clothing and shelter. Later, the buffalo bones furnished the white settler with cash, when cash was scarce.
The Indians were hostile to the white man as the railroads and the buffalo hunters advanced. In 1872, the Jordan Massacre occurred along the Middle West Walnut. The Jordans were buffalo hunters traveling from Fort Park to Dodge City. Jordan's wife was carried off by the Indians and at the same time her husband, Richard Jordan, and two other men were killed. Troops and citizens of Fort Hays searched for her, but she was never found.
The first houses in
Lane County
were generally dugouts or sodhouses twelve by fourteen feet, and the roof was covered with willows and sod, with one window.
The Texas Cattle Trail (Western Trail) was an important event in the history of
Lane County
. Large herds of Texas Longhorns were driven through the county every season.
Wild Horse Johnson of Alamota was noted for bringing horses into
Lane County
from the West. He would bring horses in, partially broke and sell them to settlers and cowboys. The breaking and training of these wild horses gave both amusement and entertainment to the west. The cowboy riding the wild bronc, roping calves, bull-dogging steers, riding steers gave both the settlers and the cowboy enjoyment while training the horses and the cowboy to work together. Perhaps this evolved into today's rodeo.
Lane County
was created by an act of legislature in 1873, organized in 1886, and named in honor of Senator James H. Lane, a freestate partisan from Kansas.
Explore Lane County
As a tribute to those pioneers who endured the hardships and loneliness of the prairie, the Lane County Historical Society was established. In 1976, the Society opened the Historical Museum to help preserve and promote the history of the county.
Dighton, KS
Museums
---
What used to be the First National Bank at Dighton is now being restored and currently houses the artwork of a local artist. It is listed on the State Register of Historic Places.
Dighton, KS
Historic Buildings
---
Course Access: Public
Holes: 9
Reserve Advance Tee Times: Yes This course is continually being maintained by the local volunteer members. This facility takes care of the golfing needs for a community of 1,500
Dighton, KS
Golf Courses
---
Explore Lane County