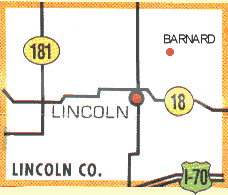 Ever been to
Lincoln County
? Ever seen a stone post fence? Do stone buildings intrigue you? Fourteen miles north of I-70, in North Central Kansas is
Lincoln County
with a history of dependence of limestone which lies tow to four feet below the surface.
Lincoln County
has much of the original prairie grassland that beckoned early settlers in the 1860's although now ther are trees, a resource that was not present at that time to build new homes, churches, schools, main street buildings, and fences. Settlers first built dug-outs the quarried limestone from their land to provide building material for their homes and other needs.
Lincoln County
is Capital of Post Rock Country, a diagonal swath extending from Republic County with the widest part in
Lincoln County
to the southern tip in Hodgeman County. Visitors will still find miles of stone fences and homes driving through the wide sloping hills and exploring the small towns of Barnard, Sylvan Grove, Beverly, and Lincoln. The Vesper and Denmark communities are also in the county.
A working quarry near Sylvan Grove is open by appointment for stone cutting demonstrations and a visit of Kansas farm equipment, both vintage and new.
Visitors will also find evidence in the area of the Danish, German, and Irish settlers. The Denmark Community provides a three-hour tour of Denmark, consisting of a historic church, hall, home, and gift shop. The tour is available by appointment from May through October.
Arts and Crafts studios, an Art Center, and a store specializing in books and art from the area are located in the town of Lincoln.
Explore Lincoln County
Explore Lincoln County