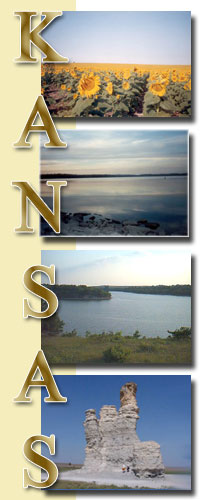 While much of the settlement of
Lyon County
was made by immigrants from other states, as early as 1857 many Welsh were arriving, and they continued to come in large numbers through the 1880's. French, Swiss, and German settlers began coming in the 60's, also. The Welsh came in the largest numbers, the Germans next, and the French third. The Welsh secured the bottom land whenever possible while the Germans took the high prairie land and made excellent farms of this land - only a decade or two earlier condemned as worthless.

The first road in Lyon County was the Santa Fe Trail, entering from Osage County in an east to west direction approximately 3 miles north of Admire.


"Out of this community of people, which for want of a better name we will call Anglo-Saxon, has been developed the towns and county that abide today. It was inevitable it should grow as it has grown. To understand it, to appreciate it, to love it all, we must know its seeds and the beginnings of its growth."


~William Allen White ~

Explore Lyon County
Explore Lyon County