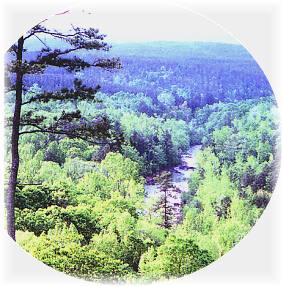 The blue-tinged mountains in
McCurtain County
are thick with towering pines, oak, and hickory - with foliage as green as the inside of an emerald. Here the misty Mountain Fork River runs wild. Fishermen come here year-round to cast for trout; others, to rekindle their spirits with long strolls on the crystal-strewn shores at Broken Bow Lake or vigorous hikes up trails lined with dogwood and pine. This is, after all, a place so pristine that for decades only logging roads, military supply routs, and Indian foot paths traversed the land.
Welcome, friend, to our state's best-kept secret: Oklahoma's Little Smokies!
When Oklahoma was Indian Territory the southeastern section was assigned to the Choctaw Nation when they were relocated from Mississippi in the 1830s.
McCurtain County
is named for Green McCurtain who was chief of the Choctaws at that time. Many local place names are Choctaw words.
Bokchito
(boke-cheeto) is big creek. Bok is Choctaw for "a stream or creek" and chito is "large, big or grand."
Bokhoma
, a settlement in the southern part of the county, means "red river." Humma is "red." Oklahoma is also a Choctaw word. Okla is "people, a nation, a tribe, mankind, folks, inhabitants."
Boktuklo
- Tuklo (tooklo) is "a pair, double." North of Golden community two branches of Boktuklo creek flow side by side. Another Boktuklo creek enters Mountain Fork river south of Smithville.
Kullituklo
(cully tooklo) was an early Choctaw settlement and is also the name of a recreation area in the Tiak section of the Ouachita National Forest. Kulli is "wells" so the name means two wells or perhaps two springs. Tiak (tee ahk) is Choctaw for "pine trees or "pine forest." Ouachita (wah' she taw) is not Choctaw, but is a Caddo word translated "cow" and thought to refer to the woods buffalo once prevalent in the area. Prehistorically this region was the home of Caddo Indian tribes.
Yashau
(yash awe) creek probably got its name from the Choctow word, aiachefa, washpot. This stream, with clear water flowing over large rocks, must have been a convenient washing place in early days.
Hochatown
- derives from hochaffo meaning "to hunger" or "to starve." This suggests that the original Indian settlement (now under Broken Bow reservoir) was very poor or frequently suffered hard times. It may have been named by early arrivals on the Choctaw's Trail of Tears.
Lukfata
- (luke fahta) means white clay. Lukfata creek runs though deposits of whitish, light gray clay.
Alikchi
(ah lick she) is "a doctor, one who practices medicine." could a medicine man have once lived on this creek, or were sweat lodges nearby?
Yanubbe
- (yah' nubby) creek gets its name from the Choctaw word, iyanabi, ironwood, (hophornbeam or blue beech, a small, hard wood tree common to the area).
Kiamichi
, (ky ah mee' shee) is not Choctaw. This name of a river and a mountain range is thought to have derived from a Caddo word or uncertain meaning, possible referring to water.
Explore McCurtain County
Explore McCurtain County