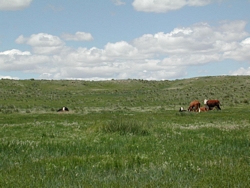 Coronado traveled across this land on his return to Mexico. Kiowa, Cherokee and Apache Indians hunted bufflo until Army generals ordered the massacre of 400,000 in one day, believing "the only way to get rid of the Indians was to kill the buffalo."
Thirty-three miles of historic Santa Fe Trail cross 108,000 acres of the Cimaron National Grassland. Today one can still see ruts and the site where freight wagons camped at Middle Spring and used Point of Rocks as lookout point from 1821-1880.
A former trading post, Richfield became the county seat. It was shot up on many a Saturday night by cowboys who traveled the National Cattle Trail from Texas to Nebraska because of the cattle quarantine.
The Santa Fe Trail Railroad headed southwest from Dodge City, and the towns of Rolla, Wilburton and Elkhart sprang up along the southern border because of the tracks.
Morton County
was established in 1886 and after several battles for the county seat, it was moved from Richfield to Elkhart in 1961.
Explore Morton County
Explore Morton County