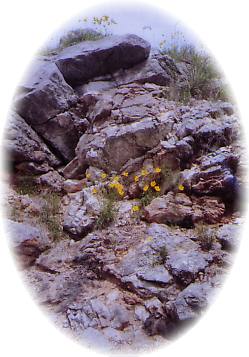 Murray County
encompasses the ancient and spectacular geologic exposures of the Arbuckle Mountains. Planning a visit to the area should include several days in order to see the myriad of examples of natural wonders revealed in the opening of the earth's crust for even the unexperienced observer to marvel from uplifted layers of the earth's surface at Turner Falls to the gurgling sulphur springs in Sulphur. Early discoveries by explorers and settlers in the area can be studied at the musuem in Davis.
Geologic History
During the late Paleozoic Era, there was a tremendous pressure underground which resulted in a great uplift that formed the Wichita, Arbuckle, and Ouachita Mountains. The thick sedimentary layers that had been deposited early horizontally in the inland seas were now uplifted, folded, faulted, and eroded, exposing older rocks underneath and forming new deposits.
The rocks of the Paleozoic Era contain oil, gas, coal, and other mineral deposits that are economically important to Oklahoma. These Paleozoic rocks crop out over 75 per cent of the state, and are covered by much younger deposits in the remaining 25 per cent of our state.
Mountain building is a very long process in which the tremendous power of the forces of the Earth are realized. The formations found in the Arbuckles demonstrate how immense beds of rock have been folded, layered vertically, or overturned by the forces of nature.
As we look back on the exploration of the Arbuckles, several questions arise. How tall were the Arbuckles? Some suppose they were over 20,000 feet during the late Pennsylvanian years. The Arbuckle Mountains were ancient when the Rockies were being formed. Today, they are a mere 1400 feet above sea level. How did this happen? The Arbuckle Mountains were eroded by the action sand, wind, and water. The Arbuckle Mountain region of South Central Oklahoma is a rarity of the geological world. The 400 million year history is written in the rocks of the Arbuckles for all to see...
Explore Murray County
Explore Murray County