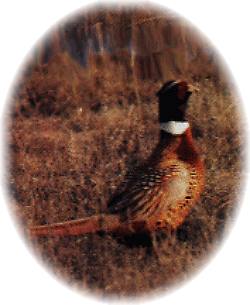 "Pheasant Capital of the World"
Norton County is the "Hub of Northwest Kansas" when it comes to recreation. Pheasant hunters from throughout the nation throng to Norton County on season opening day. Norton has been termed the "Pheasant Capital of the World." An abundance of deer, quail, and other wildlife bring many other sportsmen to the Norton area, Sebelius Reservoir and the Norton Wildlife Area.
John C. Fremont came to this area on his exploration of the West. In his travels he found a beautiful stream, a fork in the Republican River. His group followed this stream and saw many villages of Prairie Dogs. So the name Prairie Dog Creek was given to this water course. Fremont then went West-Northwest and crossed the Sappa Creek. Then he journeyed south and found the north fork of the Solomon. Thus, three main streams were discovered in this county.
In 1859, the Kansas legislature named the territory, which now comprises
Norton County
, "Oro".
Kansas became a state on January 29, 1861, and counties and cities were organized. On March 3, 1868, "Oro" territory was divided into counties and "Norton" evolved. This area was named in memory of Orloff Norton, captain of the Fifteenth Kansas Cavalry.
Early comers to the county, besides Indians, were buffalo hunters and trappers. However, there were others who were desirous of acquiring land and making homes. The first settlers in the new almelo area were Catholics from Canada who homesteaded along the solomon in 1873. First known as the French settlement, since the 1870's, Catholics of German and Irish descent have predominated. The Leavenworth and Pikes Peak Stagecoach Line ran through Norton where travelers stopped at Station 15, which still exists in a city park along Highway 36.
Explore Norton County
Explore Norton County