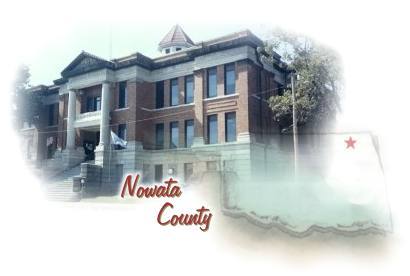 Many millions of years ago a shallow sea receded from Oklahoma leaving swamps and barren land. In the area of
Nowata County
, these swamps formed depostis of coal and petroleum forming the basis for exonomic development in the 1900s.
Nowata County
history, like that of much of Oklahoma, is tied to Native Americans, cattle, oil and outlaws.
Osage Indians were living in the area in the 1700's and early 1800's. Without the consent of the Osage, from 1817 to 1830, the Cherokee Indians who were forced out of their lands east of the Mississippi were given possession to most of northeastern Oklahoma, obtaining all the area of what was to become
Nowata County
. The Cherokees and Osage fought a number of battles over their differences until, in 1838, a band of Cherokees and Delawares attacked the Osage in the Claremore Mounds Massacre. The remaining Osage fled into Kansas. The tribe later moved near Bartlesville then into Osage County in 1871 and 1872. The Deleware Indian Tribe came to the area in 1867 when the tribe was forced off its lands in the Lawrence, Kansas area following the Civil War.
Notawa County has a population approaching 10,000, with Nowata being the county seat and largest city at approximately 3900 citizens.
Rich in heritage from the Indian culture to the wild and woolly oil boom days,
Nowata County
is still rich in hometown folks that welcome you to visit, tour, or call the area home.
Explore Nowata County
Explore Nowata County