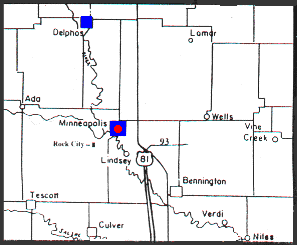 Discover
Ottawa County
at its best through the self-guided Red Post Tours. Pick up the guide at the Chamber office and follow the Red Posts -- there's one at every turn on each of four tours.
Drive the Natural Prairie Tour and expect a lot of intriguing sites: one of Kansas' first state fishing lakes, a town that refused to vanish, two that did, ranches, farms, a buffalo ranch with a fifty ton hilltop buffalo.
You might see prairie wildlife, wild flowers, and gorgeous sunsets.
You will find fascination in the undulating vistas of grass coated hills, ever changing - always the same.
Old barns, miles of stone fences, and open spaces are some of the highlights. You will see the most scenic valley and rolling hills there are in the heart of America. You will meet interesting people and learn why the homesteaders fell in love with
Ottawa County
.
If you should spot someone, stop and visit a bit. You may find them as caring and friendly as yourself.
Explore Ottawa County
Explore Ottawa County