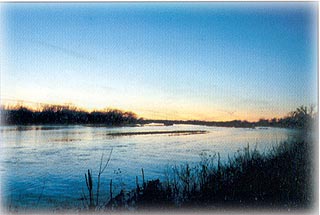 The history of the plains can still be felt as one travels from the high fertile plains around Holdrege to the rolling hills and canyons west of Atlanta, north to the wide, tree-lined Platte River and southeast to the Sacramento Wildlife Management Area.
The historical marker on the
Phelps County
Courthouse lawn gives a brief history of
Phelps County
; The great immigrant roads to the west which followed the Platte River brought the first settlers to this area. Beginning in the late 1850s, these frontiersmen operated stage stations, road ranches and trading posts. An August attack upon a wagon train in northwestern
Phelps County
, known as the Plum Creek Massacre, was the initial incident of the Indian War of 1864.
Phelps county was organized on April 23, 1873, with the northern town of Williamsburg being named the county seat. The seat of government was moved to Phelps Center in 1879 and again to Holdrege, its present location, in 1883. Early settlers, lured by government homestead lands and cheap railroad lands, were mainly of Swedish descent. Excellence in education, religion and agriculture was their goal, as it is today.
This area is credited with one of the world's largest underground water supplies. The Central Nebraska Public Power and Irrigation District, headquartered in Holdrege, operates the largest surface water irrigation project in Nebraska, providing direct and supplemental irrigation, hydroelectric generation, recreation and wildlife habitat benefits to Nebraska.
Explore Phelps County
Explore Phelps County