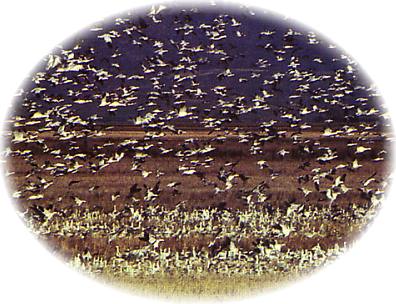 Phillips County
is the
"Goose Capitol of Kansas."
The Kirwin National Wildlife Refuge, an 11,000 acre wildlife paradise, is located just a 20 minute drive from Phillipsburg. Recreational opportunities abound for the outdoor enthusiast, such as fishing, hunting, hiking, wildlife photography, nature observation & bird watching. Also, camping and picnic facilities are available. In addition to the Kirwin facility, four other large lakes are within 30 minutes of Phillipsburg.
Other recreational opportunities in Phillips County include 2 golf courses, swimming pools, bowling, spacious parks and public tennis courts. In season, Phillips County offers blue-ribbon hunting for deer and upland game.
TOWNS IN PHILLIPS COUNTY - WHAT THEY ARE KNOWN FOR
Agra - Organizers named the town after the daughter of the president of the Chicago, Rock Island, and Pacific Railroad. PO: December 7, 1887. Agra shares its name with the city in North Central India where the Taj Mahal is located.
Glade - Here is another Kansas town named after a railroad engineer of the Missouri Pacific, originally named Marvin. PO: July 1, 1908.
Gretna - In 1915, 12 miles north, fossil hunter George Sternberg discovered a meteorite weighing 80 lb.. Gretna was originally named Dana.
Kirwin - Colonel John Kirwin came to Kansas after the Civil War to build a stockade for the protection of the overland emigrants on their way to California. Kirwin is known as the GOOSE CAPITAL.
Logan - One of the founders suggested the name of his Civil War commander, General John Alexander Logan of Illinois. PO: March 1, 1872. The Dane Hansen Museum is located in Logan.
Long Island - A group of Holland Dutch established a trading and shipping point for farmers and cattlemen in 1871. The name Long Island refers to its position between two creeks that run parallel to each other for several miles. PO: May 16, 1872. The area is famous for its fossils.
Phillipsburg - The county seat of Phillips County is called "the city of the hills" because of its location on the uplands of Deer Creek. The name was not taken from the county name but rather from William Addison Phillips, a lawyer and journalist who worked for the New York Tribune. He wrote forceful editorials and articles about the struggle over slavery in Kansas. During the Civil War he was a colonel of the Cherokee Regiment; he later served as U.S. representative from Kansas and was influential in the development of Salina.
Prairie View - Prairie has been one of the most popular names, appearing as just prairie or in combination with other words in sixty-seven place names in Kansas. PO: July 15, 1879.
Speed - Dr. Chapman, a Kansas physician, suggested the name Speed to honor James Speed, President Lincoln's attorney general. PO: March 28, 1895. Gayle Sayers was born in Speed.
Stuttgart - Named after the German Immigrants and the place where the Farmers State Bank originated.
Woodruff - The Lincoln Land Co. purchased 240 acres from a man named "Breezer" and laid out the town of Woodruff.
Explore Phillips County
Explore Phillips County