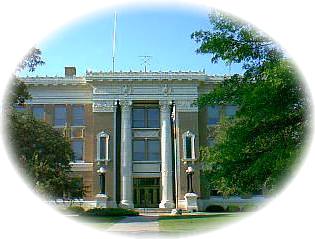 The famous Platte River enters Polk county on the
western boundary cutting off a triangular piece
from the northwest corner and forms the northern
boundary. A beautiful and exceedingly fertile valley
stretches back from the river a distance ranging
between fifteen and twenty miles, when a line of
low hills separates the valley from the upland.

Many early settlers were Swedish and German
people who had come in search of land in the new
world. Word was carried back across the waters
to relatives and friends, who then came directly to
Polk County where they filed claims of their own
or purchased railroad land.

Osceola, named after the Seminole Chief Osceola lies at the geographical center of the county and was
made the county seat in 1870. The handsome courthouse and the Polk County Historical Society
Museum are located in Osceola. Four governors have come from the community: Albimus Nance served
Nebraska 1879-83, John Mickey from 1902-007, Ashton Shallenberger from 1909-11 then ten years
in Congress, and Stanley Hathoway was Wyoming's governor 1966-74.

South of Osceola and located on Highway 81, Stromsburg was proclaimed to be "The Swede Capital
of Nebraska" at the Swedish Festival in June 1966 by Governor Frank Morrison. Over 10,000 visitors
enjoy the Swedish Festival each June as well as the Midwest Park Arboretum and the scenic walkways
between the City Park and beautiful Buckley Park.
Explore Polk County
Explore Polk County