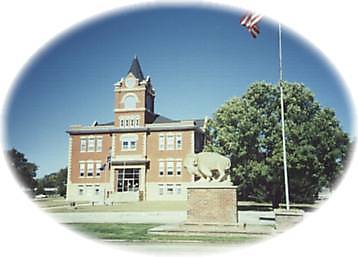 "Travel is so smooth and effortless today that it is hard to visualize the hazards in the mid-19th century. For example, in June, 1859, four mules pulling a Denver bound Pike's Peak Express stagecoach -- six days and 450 miles out from Leavenworth -- were terrified by Indians a few miles northeast of here. Plunging down a precipitous bank, the animals upset the coach and its best-known passenger, Horace Greeley, editor of the New York Tribune. Greeley was soon rescued 'and taken to Station 17, a few yards beyond, where the good woman dressed his galling wounds.'
There were other, more serious encounters with the Indians. On April 23, 1875, 40 men of the Sixth U.S. cavalry attacked 75 Northern Cheyenne on Sappa Creek, 14 miles south. Two soldiers and more than a score of Indians were killed. A Cheyenne raid in the autumn of 1878, brought death to more than 30 settlers on Sappa and Beaver Creeks here in Rawlins and adjoining Decatur counties.
Thousands of cattle were driven through this area in 1876-1885, plodding the Western cattle trail from Texas through Dodge City to Ogallala, Nebraska.
Rawlins County
was established in 1873 and named for General John A. Rawlins who was adjutant to Ulysses S. Grant during the Civil War and is said to have had great influence on Grant. He became Secretary of War in 1869 when Grant became president.
Explore Rawlins County
Explore Rawlins County