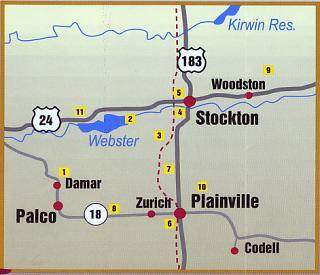 The countryside encompassing
Rooks County
is some of the most productive in the west central region of Kansas. Agriculture related industries and oil production have provided a substantial economic foundation on which the communities throughout the county have grown.
Founded in 1872,
Rooks County
was named after John C. Rooks, a private in the 11th Kansas Regiment, who died from a wound suffered during the savage December 7, 1862, Battle of Prairie Grove, Arkansas.
French Canadians and Germans were among the first settlers in the area and there heritage is evident in two beautiful churches in Stockton and Damar. The avid sportsman will find the area surrounding Plainville to be abundant with wildlife. Hunters not only enjoy the challenge, but also the rewards.
Explore Rooks County
Explore Rooks County