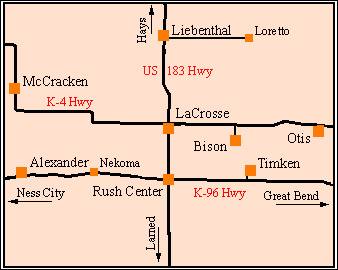 Rush County
was named in honor of Alexander Rush, Captain of Company H of the 2nd Kansas Colored Infantry, who was killed in the battle of Jenkins Ferry, Arkansas, on April 30, 1864. He was serving under Colonel Samuel Crawford, who later became the governor of Kansas. Crawford favored the name for his courageous captain.
Rush County
's boundaries were set in 1867 and officially organized in 1874.
Two very important military roads which played a significant role in the settlement of the United States and which crossed
Rush County
were the Ft. Hays-Ft. Dodge trail and the Ft. Hays-Ft. Larned trail. These two trails formed a triangle with the Ft. Larned-Ft. Dodge sector of the Santa Fe Trail. The distance between Ft. Hays and Ft. Dodge was 90 miles. It was 50 miles between Ft. Hays and Ft. Larned. A round trip from Ft. Hays to Ft. Dodge to Ft. Larned and a return trip to Ft. Hays took three days. After Ft. Fletcher was abandoned and moved to the Ft. Hays location a shorter trail to Ft. Larned was used.
Along the Ft. Hays-Ft. Dodge trail the army from Ft. Hays established at least two major wells in the county. One is still in use. They also established camps for gathering wood in at least three locations in Rush county.
On a hill north of the creek near Alexander a private fort with a stockade wall was established by Mr. Fink shortly after Ft. Hays was built. The fort known as Fink's Fort was sold in later years to a Mrs. O'Laughlin.
Explore Rush County
Explore Rush County