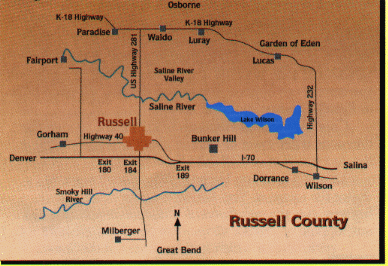 The miles of stone fenceposts in this area stand as a tribute to the ingenuity of early settlers who solved their fencing problems on the treeless plains by quarrying rock to use as posts. The stone posts have become a trademark of the Smoky Hills region of Northcentral Kansas.
The stone used for posts and homestead buildings was quarried from bedrock found near the surface. This rock is a chalky limestone of rather uniform thickness eight to nine inches deep. When freshly quarried, it is soft enough to be sawed, notched, drilled or shaped with hand tools. After prolonged exposure to air it hardens and becomes weather-resistant.
Visitors will find many buildings, homes and yard ornaments throughout the
Russell County
area, built from this native limestone, commonly referred to as "post rock."
Explore Russell County
Explore Russell County