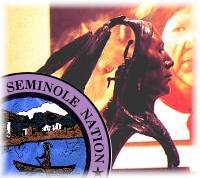 The first Seminole Nation in Oklahoma was formed in 1856 with a treaty made with the Creeks and the Federal government. This Nation, recognized as an independent nation within the United States and under its protection, consisted of the land between the South Canadian River and North Canadian River bounded on the east by a line that is where the present city of Tecumseh now stands, and on the west by the western boundary of the United States, which was the 100th meridian.
The Seminoles, under the leadership of Chief John Jumper, moved to their new nation and established a community known as the Green Head Prairie. A council house was located about two miles north and two miles west of the agency.
The aftermath of the Civil War devastated Indian Territory forcing the five Civilized Tribes to give up their claim to all their land in the western half of what is now Oklahoma. With the signing of yet another treaty in 1866, the Seminoles bought 200,000 acres from the Creeks which is present
Seminole County
.
Explore Seminole County
Explore Seminole County