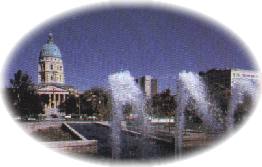 Plan on fun, adventure and history while visiting this scenic county. Start off by visiting the State Capitol. The building was constructed between 1866 and 1903, and the Capitol has a variety of architectural features and one of the most elaborate senate chambers in the country. It is also home to the magnificent murals of native son John Steuart Curry.
While visiting Topeka, come and learn more about Shawnee County history at the Topeka and Shawnee County Public Library. The major urban library has a collection of over 450,000 books and serves more than 85,000 registered borrowers. It also has the distinction of being home to the oldest permanent collection of public art in the city. Currently, the library is expanding to add 100,000 square feet. It is being designed by world famous architect Michael Graves. For more information call (785) 233-2040.
Washburn University, located in Topeka, is the only municipal university in the nation. With an attractive and modern campus, the university is home to many special events, festivals and concerts. (785) 231-1010.
If you're looking for adventure, look no further! Lake Shawnee has everything under the sun-- hiking, camping, fishing, boating. With 410 surface acres of water, it is home to every kind of water sport you could want. In addition, this beautiful area on the southeast edge of Topeka is a game sanctuary for water fowl and other animals. Picnic and observation area are located along eight miles of shoreline. All-in-all, the 1,110 acre park is one of the finest recreational centers in the Midwest. (785) 267-1156.
Shawnee North Community Park Nature Trail is a 2.2 mile trail that crosses Indian Creek, winding through native grasses, trees, and flowers. Open year-round. (785) 286-0676.
Don't miss out on historic Lecompton! The city, just east of Shawnee County on old 24 highway, was founded in 1854 and served as the permanent and only official capital of Kansas territory until Topeka became the state capitol in 1861. Today its the location of the territorial Capital-Lane Museum and Constitution Hall. The museum is operated by the Lecompton Historical Society and is open 11a.m. to 4p.m. Wednesday through Saturday and 1p.m. to 5p.m. Sunday. (785) 887-6148 or (785) 887-6285. Constitution Hall: (785) 887-6520.
Explore Shawnee County
Explore Shawnee County