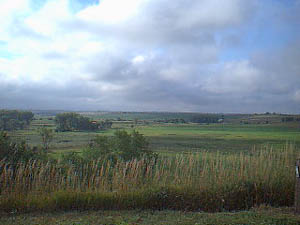 Sherman County
is located in central Nebraska and is the home to five cities: Ashton, Litchfield, Hazard, Loup City, and Rockville.
The "Skidi" band of Pawnee Indians originally lived in this area. The Pawnee word "skidi" means "wolf." Translated into French, the word becomes "loup," the name given to the large three-pronged watershed in central Nebraska. Soon after
Sherman County
was organized in 1873, Loup City became the county seat, primarily because of its location in the Middle Loup Valley.
The Union Pacific Railroad came to Loup City in May 1886, followed by the Burlington in October 1887. This provided daily mail delivery, telegraph service, and competitive rates for freight and passengers.
In those early days, the railroad companies owned over 160,000 acres of land. The sale of these lands brought many immigrants to
Sherman County
; Polish, Swedish, Danish, German, Bohemian, English, and Scottish.
Explore Sherman County
Explore Sherman County