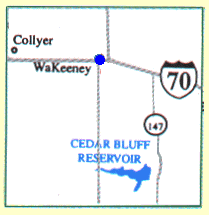 Mule and white tail deer inhabit the countryside. Pheasants crow, the bob white quail whistles, and the prairie chicken boom at the lake each spring morning. A multitude of song birds awaken the prairie with a symphony of sound accompanied by the creaking of the windmills that dot the countryside. The southern breeze prompts the wild flowers to nod and the prairie grasses to sway.
Nature lovers will delight in the abundance of things to see and do in the great outdoors in
Trego County
. Our county offers excellent hiking and bird and wildlife watching opportunities as well as hunting and fishing for the sportsman. Cedar Bluff reservoir offers an array of summer water sports such as sailing, boating, skiing and other personal water crafts. Golden and bald eagles can be observed during the winter months as they use the reservoir as their feeding grounds.
As the sun sets on the western horizon, expect to hear the great horned owl hoot form his perch high in the cottonwood tree. Listen as the coyote howls from the rocky ledge of the canyon. You're invited to enjoy the sights and sounds of the natural world in
Trego County
.
Trego county was named in honor of Edgar Poe Trego, captain of Company II, which was attached to the 8th Kansas Voluntary Infantry.
Three west to east rivers are located in
Trego County
: the Saline River, Big Creek and the Smoky Hill River. Following the northern side of the Smoky Hill is the Butterfield Overland Despatch Trail, which was a short term stagecoach line that was followed by freight haulers and wagon trains.
In 1865 the Butterfield Overland Despatch was established by Dave Butterfield in the southern part of what later became
Trego County
. It was originally established to run freight on and then later carried passengers. The trail followed the Smoky Hill River from Fort Leavenworth to Denver and was the shortest route between the two but was not always the safest. The stations in
Trego County
included Stormy Hollow, Bluffton, White Rock, and Downer. Downer Station was the only home station in
Trego County
. The BOD was used until 1878 when the railroads moved west. Today the trail is marked and you can still see some of the wagon ruts.
In 1867 and 1898, the Union Pacific Railroad tracks were laid through
Trego County
.
Today, WaKeeney, Ogallah, and Collyer welcome pioneer spirit to explore the back roads and marvel at our beautiful, rolling prairies.
Explore Trego County
Explore Trego County