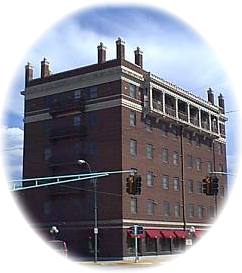 It seems
York County
has been called the Crossroads of the Midwest and the Crossroads of America, as major highways (Interstate 80 and Highway 81) intersect here - bringing travelers from all four directions. Even 130 years ago, this area was a resting area for pioneers - and a place where many of those travelers stayed for good.
It started as a dot on the map, a point of reference for pioneers on the Oregon Trail seeking a resting spot. its fertile, rich and prosperous fields - some of the richest in the world - prompted many to stay.
In 1869, road ranches and freight stops dotted the trails, especially in York county. These sprouted up as rest stops fro traveling stage and freight horses and "pilgrim rooms" were available. York was a popular stopping point on the Overland Trail, or the Nebraska City Cut-off, as it was commonly called. A monument commemorating the Nebraska City-Fort Kearney cut-off, it located at the rest stop along the interstate just east of York.
With the arrival of the railroads in the early 1870s, the road ranches shut down and the towns grew. York, growing itself as a regional farm trading center and travel stop, was incorporated in 1870 and designed as county seat. Its first courthouse was built in 1872 and the town boasted thirteen businesses.
A variety of historical sites exist in the county. Old homesteads, cemeteries, churches, and schools can provide "a historical adventure" for all ages.
Explore York County
Explore York County